Covid-19 decision making guidance
When Covid-19 struck, we took the strategic decision to collaborate with respected stakeholders to analyse the virus and determine the future of office workplaces and working practices.
The aim was to provide independent and unbiased decision-making guidance for business that is rooted in science.
We commissioned one of the world's leading academic institutions, University College London Consultants, to undertake a full investigation and report into the effects of the virus, utilising a multi-faculty panel of experts including virology, healthcare, architecture, behavioural science and mechanical engineering.
Three all-party conferences were held between the academic panel and ourselves with our partners, CBRE (global real estate services), MCM (architecture & design), Sandy Brown Associates LLP (acousticians), Strähle (system partitions) and Adynaton (asset management and development).
We are proud to make available the study as an Executive Report containing conclusions and recommendations and the full report from UCLC.
We've learnt a lot and would be pleased to discuss the findings and implications for your business. Please do not hesitate to contact Mark Lane.
Download the executive summary PDF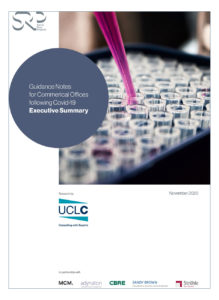 Download full report PDF